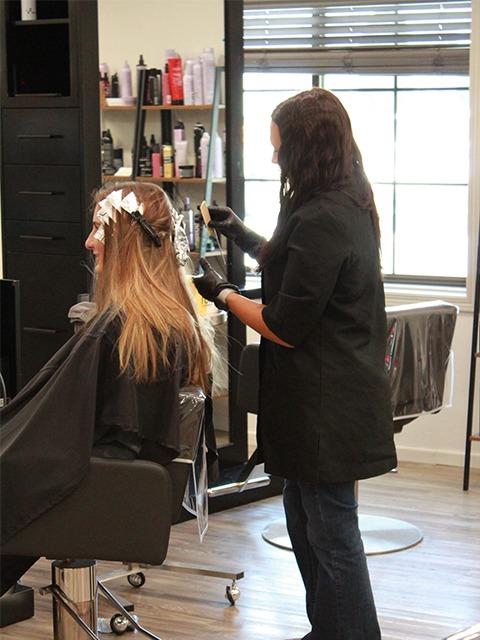 Who are we?
About the Salon
Welcome to your very own place for blissful pampering and relaxation. At Expressions by Design, we invite you to wind down from the fast-paced struggles and stresses of the world while our licensed professionals pamper and soothe both your body and spirit. From head to toe, we have all the services needed to maintain both your outer beauty and bring out a healthy, happy glow from within. Settle in and leave the rest of the world behind you while "We make you look and feel your best!"
What we Offer
Our Services
We provide top notch hair cutting and coloring techniques, along with the latest trend-setting chemical textures.
We provide a variety of services for the purpose of improving health, beauty and relaxation through personal care treatments, such as massages, facials, pedicures and manicures.
We love making memories with you on those once-in-a-lifetime moments. Let us get you looking and feeling your best on these special occasions!
Get the Look!
Our Pricing
Please note all the prices listed are base prices. Base prices are determined by our entry level stylists. Prices vary with each level of stylist. If you would like to know specific pricing, ask your stylist prior to services performed.
Cancellation Policy
If an appointment is cancelled less than 24 hours prior or you no-show, you will be charged 50% of the scheduled service cost. Arriving late will limit the time of your treatment, lessening the effectiveness of your service.
Bridal Special Occasion
$85
What our customers have to say:
Testimonials
Best salon and spa in the area! Michelle does an awesome job with hair and pedicures and Sherry is phenomenal with her massage skills! I won't go anywhere else now that I've discovered this gem!!! I LOVE EXPRESSIONS BY DESIGN! The staff are all very friendly and accommodating. All services I've had been wonderful—from my hair cuts and colors, to massages, pedicures and waxes! Katie Petty does an amazing job every time! Expressions its my go-to place! I love Jess!!!! She always does a wonderful job & listens to what I say about my hair. She gives good advice, and on the one occasion something needed to be tweaked, it was done with a joyful heart!!! The reception staff is always welcoming too!!! Amazing experience, had pedicures with my daughter. They made sure both of us felt pampered. My daughter felt so special—she can't wait to go back! I had an appointment for an airbrush makeup trial run, in preparation for my wedding. Maddy did an awesome job! She was very knowledgeable and patient with me when I asked questions. I had a great experience! I can truly relax at Expressions, and know I can count on Dericca to cut and color my hair the way I would like it. I love the caring atmosphere and also the cheery upbeat welcome every time I enter the door. I never have a bad experience here. I get what I ask for always. Staff are very knowledgeable and won't let me make a mistake with my hair. Maddie was great. Everyone at Expressions was very friendly. I absolutely love my hair! I have known the ladies for a long time and would not trust anyone else to do my hair. They are all so easy to talk to and genuine.
THE BEST PLACE IN PELLA Friendly staff! They did such a great job on my hair for my wedding! The makeup also looked so good! All the ladies in my party looked fabulous!